11. Apr 2023
Association of the PBS brand industry grows
GO Europe GmbH is a new member of the PBS
brand association
"With GO Europe GmbH, we welcome another renowned company as a new member in 2023," Volker Jungeblut is pleased about the addition in 2023.
With its two core brands Genie and Olympia, GO Europe GmbH, based in Hattingen, Germany, has a wide range of technical office products, such as calculators, document shredders, laminators, cash registers or even bill validators. Distribution covers a wide area, from classic office supply stores to food retailers with their school and office supplies.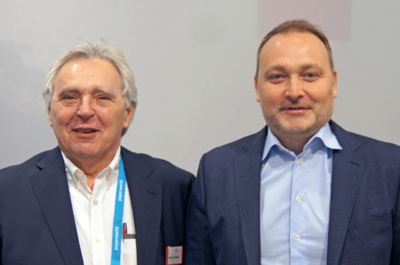 The two managing directors of GO Europe Christian Gerth (r.) and Heinz Prygoda
"We are pleased as GO Europe GmbH since this year member in the PBS brand association to be. In the current turbulent and unsettled times, we hope for an open and lively exchange with the aim of perhaps also leveraging some synergies," says Christian Gerth, Managing Director of GO Europe GmbH.
"GO Europe GmbH is an excellent addition to our brand association and we warmly welcome our new member. Together, we as the PBS brand association, will continue to drive the development of innovative and high-quality products as well as high ethical standards for the stationery industry," emphasizes the Chairman of the Board, Armin Herdegen, Trodat.