05. Aug 2021
Fresh design meets clear structure
The website of GO Europe GmbH has been redesigned from the ground up with a modern look.
The new website focuses on providing a detailed company profile that informs customers, partners, press and applicants about GO Europe GmbH. The presentation of the individual brands, which in addition to Olympia, Genie and HP also include babyruf, bonsaii, Hartig + Helling and IOIO, can be found in a separate section and offers a clear insight into the brand world.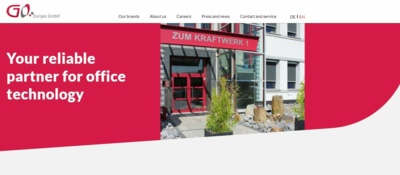 The website of GO Europe GmbH has been redesigned from the ground up and can be reached with the familiar URL www.go-europe.com.
Responsive design and usability in focus
"After the merger of GENIE GmbH & Co. KG and Olympia Business Systems Vertriebs GmbH, we felt it was important to finally have an appropriate digital presence with the new GO Europe GmbH," says Managing Director Heinz Prygoda. Co-Managing Director Christian Gerth adds the following: "In addition to mobile optimisation, we have not lost sight of user-friendliness and have created a clear press and career section for interested journalists and applicants." The English version of the website is expected at the beginning of September so that customers from abroad will also have a place to find current information about GO Europe. Gradually, the individual brand pages, first and foremost Olympia and GENIE, will undergo a complete website relaunch to ensure that they are contemporary and user friendly.