25. Jan 2022
Cooperation between GO Europe and SYSTEAM extended GO Europe GmbH and SYSTEAM Gesellschaft für Computer Systeme mbH have signed a distribution agreement for the distribution of HP licensed products
The Hattingen-based supplier of paper, office and stationery products is expanding its distribution channel: SYSTEAM Gesellschaft für Computer Systeme mbH from Ebensfeld in Upper Franconia is the official HP Printing Distributor in Germany and HP Supply Distributor in Austria.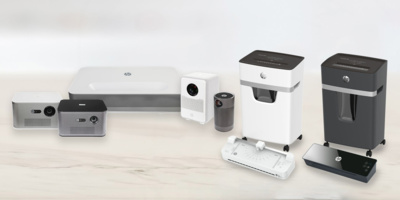 HP brand laminators, document shredders and projectors
"Thanks to the cooperation with SYSTEAM, we have found another partner with whom we can market our high-quality HP portfolio. In addition to document shredders and laminators, the new HP Smart Projectors are also available in the shop", says Heinrich Prygoda, Managing Director of GO Europe GmbH.
Co-Managing Director Christian Gerth adds: "In the trade, SYSTEAM is known for its fast availability and rapid order processing. We are pleased to be able to use this important advantage and are convinced that our HP products are optimally placed in SYSTEAM's portfolio".
"With GO Europe GmbH, we have found an exclusive licensee for well-known brands such as HP and DMAX as well as our own brands Genie and Olympia. We are pleased to be able to expand SYSTEAM's range of products for our dealers", says Dominik Dütsch, Product Manager at SYSTEAM Gesellschaft für Computersysteme mbH.
About SYSTEAM GmbH
SYSTEAM Gesellschaft für Computer Systeme mbH distributes a wide range of branded IT products, ranging from complete systems and strategic components to accessories and solutions for Large Format Printing (LFP). The focus of the business, however, is on printers, IT and VBM. As recent market research results show, SYSTEAM, founded in 1985, is one of the most popular distributors in Germany, both in the 'Broadline' category and as a specialist for printers, scanners and accessories.